Description
The pre-orders will be shipped in the middle of April 2021.
Compact powerful single motor
After years of R&D, we've found a way to make our propulsion system work in a more efficient way. Don't let Tini's single motor fool you, Tini's motor is so powerful, it can go as fast as most dual motor underwater scooters. Slow down to 1.1m/s to enjoy the view, or as fast as 1.4m/s to experience the thrill.
Modular Design: Double the power, double the fun
With WhiteShark Tini's modular design, you can easily attach two scooters together to double the power and double the fun. Attaching two scooters together allows experienced divers to fly through the waters at 2m/s. Making it the fastest dual-motor scooter on the market.  
Duration and Speed
WhiteShark Tini 2-in-1 mode can slow down to 1.6m/s to enjoy the view, or as fast as 2m/s to experience the thrill. A single charge allows you to explore up to 45 minutes underwater.
* Please note that usage time varies depending on the intensity of usage and underwater conditions.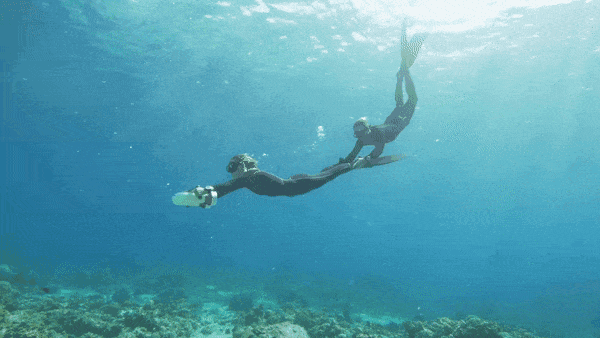 Easily Disassembled
WhiteShark Tini can easily be disassembled without using any tools, its versatile and modular design gives you the freedom to customize it to fit your needs. Left-handed or right-handed, easily interchange the control handles to fit your preference.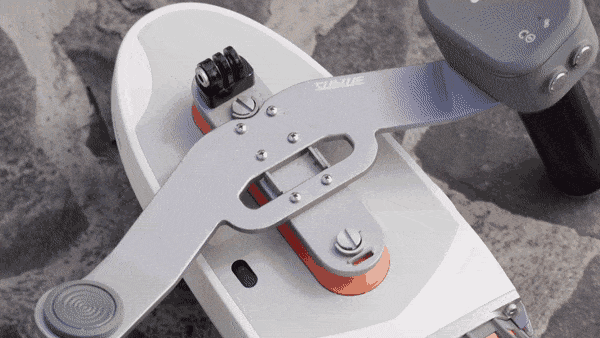 Fun for everyone
WhiteShark Tini is the perfect companion for a day at the beach or backyard pool. Featuring an inflatable kickboard, WhiteShark Tini is suitable for water enthusiasts of all ages. 
Inflatable Kickboard
Got young ones in the family? WhiteShark Tini is created for all divers and ages in mind. We have specially created an inflatable kickboard attachment for younger swimmers so that WhiteShark Tini can be enjoyed by water enthusiasts of all ages. The inflatable kickboard features a built-in wireless controller that is easy to use, just press and go. 
Action Camera or Phone Amount
WhiteShark Tini is compatible with both action cameras and smartphones. Easily document all of your epic underwater moments with the attachable mount for action cameras and smartphones. Direct amazing videos starring the beautiful marine life underwater, or simply create amazing home videos of your friends and family at the pool.
Floater
Tini's attachable floater allows your underwater scooter to stay afloat, so you never have to worry about losing it. Attach the floater for positive buoyancy to snorkel and fly through the water or detach to dive down to 20m to explore the beautiful marine life underwater. 
Specification
Size
Tini power part: L 355mm x W 135mm x H 135mm
Single-boosting handle bracket: L 296mm x W 144 x H 36.5mm
Double-Engine support handle: L 543mm x W 355mm x H 194mm
Control Handle: L 95mm x W 57mm x H 158mm
Grip handle: φ 35.9mm x H 123mm
Weight
Single Motor: 3000g (incl. Battery)
Dual Motor: 5500g (incl. Battery)
Working Depth
20m
Speed Levels
Single Motor: High Speed 1.4m/s Low Speed 1.1m/s
Dual Motor: High Speed 2m/s Low Speed 1.6m/s
Service Time
Dynamic System: Up to 45mins for normal use
(Continuous Use Time: High Speed 20mins, Low Speed 35mins)
The Controller handle up to 150mins for normal use
Charging Time
2 hours
Battery Power
98Wh
Battery Weight
 870g
Videos
FAQs
---
Share This
QUESTIONS & ANSWERS
Have a Question?
Be the first to ask a question about this.
Ask a Question
---